2017 Annual Meeting in Cancun

Dear Globalink Members, Spouses and Guests,
On behalf of our GOLD Sponsor, INTERCOM, and myself, we are very pleased to invite you to our 2017 Annual Worldwide Meeting, being held in at the IBEROSTAR CANCUN GOLF & SPA RESORT.
Cancún, a Mexican city on the Yucatán Peninsula bordering the Caribbean Sea, is known for its beaches, numerous resorts and nightlife. It's composed of 2 distinct areas: the more traditional downtown area, El Centro, and Zona Hotelera, a long, beachfront strip of high-rise hotels, nightclubs, shops and restaurants.
Mexico is an amazing country which offers a variety of landscapes and experiences for all visitors.  Cancun is known for some of most spectacularly beautiful beaches and water, in the World. If you are looking to unwind before or after the conference, I highly recommend exploring the coastline south of Cancun, as well as a visit to Playa Del Carmen.  I've been going to Mexico for years, and I've always found that the people are very friendly, the beaches are amazing, and this part of Mexico is very safe.   Cancun is one of Mexico's premier resorts and has something for everyone.  There is great shopping, great nightlife, and great resorts.  Cancun is located on the Yucatan Peninsula, in the state of Qunitana Roo, which is rich in ancient Mayan history.  A visit to the ancient temples is Tulum, or more ambitiously Chichen Itzais  also a great experience.

This meeting wouldn't have been possible without the help and input of Mr. Rolando Osuna and his team at INTERCOM TRANSPORTE iNTERNACIONAL of Mexico. They have contributed much input and time.  Please take a minute to thank them during our visit.
I also wish to extend our gratitude to ATOLL LOGISTICS of the Maldives, and Mr. Kasun Deveraja, Managing Director, for their contribution to our meeting as our WELCOME COCKTAIL SPONSOR as well as our SILVER GALA DINNER SPONSOR..
Please join me in thanking these members that have come forward to support this meeting and to help make it less expensive for all of you.  This is the essence of a true commitment to one's partners.
Before moving onto more information I want to let you know that the hotel we have selected this year is one of the very best in the area.  The IBEROSTAR GOLF & SPA RESORT is located right on the beach, and only a 10-15 minute ride from the Airport.   The IBEROSTAR is the only hotel in Cancun that is connected with the Cancun Convention Center, and is oriented to business.  While we will be in Cancun during spring break, the IBEROSTAR does not take bookings for Spring Break attendees.
I wish you all a great meeting and a great time.  We know good relationships builds good business.  And, you will find our meeting to be a good balance of work and fun.  Everyone at Globalink is here to help you maximize your return on your investment in Globalink and in this meeting.  We are at your service.
What follows are a number of points associated with the meeting, how to plan your trip and what to expect.
---
VISA REGULATIONS
Whether you need to apply for a visa before traveling to Mexico depends on which country issued your passport, or where you have legal residency, or whether you have APEC business travel privileges.  This article explains who, and who does not, need to apply for a visa before traveling to Mexico.
You do NOT need to apply for a VISA for travelling to Mexico IF: 
1) Your passport is issued by one of the countries on the  'exempt' list and you intend to travel to Mexico for leisure and business trips of 180 days or less; OR
2) If you don't hold a passport from one of the countries on the 'exempt' list, but you do hold a current residency visa or permit for the United States of America, Canada, Japan, the United Kingdom, or any country that is signatory to the European Schengen Area; OR
2a) If you don't hold a passport from one of the countries on the 'exempt' list, but you do hold a current visitor visa for the United States of America; OR
3) You are legal resident of Mexico (Residente Temporal or Residente Permanente – formerly FM3/FM2); OR
4) If you don't qualify under 1, 2, or 3 above, but you do hold a currentAPEC/ABTC business traveler's card with pre-clearance approved by Mexico.  
Citizens of the following countries do not require a visa:
Andorra, Argentina, Aruba, Australia, Austria, Bahamas, Barbados, Belgium, Bulgaria, Canada, Chile, Costa Rica, Cyprus, the Czech Republic, Denmark, Estonia, Finland, France, Germany, Great Britain, Greece, Hong Kong,* Hungary, Ireland, Iceland, Israel, Italy, Japan, Latvia, Liechtenstein, Lithuania, Luxembourg, Malta, Monaco, Netherlands, New Zealand, Norway, Panama, Poland, Portugal, Puerto Rico, Romania, San Marino, Singapore, Slovakia, Slovenia, Spain, South Korea, Sweden, Switzerland, The United States of America, Uruguay or Venezuela
*Chinese citizens with passports issued by the Hong Kong Special Administrative Region.
APEC Business Travel Card
Holders of passports issued by the following countries who possess an APEC Business Travel Card (ABTC) which states on the reverse that it is valid for travel to Mexico can enter visa-free for up to 90 days.
ABTCs are issued to nationals of:
For countries that don't need a visa, a Mexico Visitor's Permit (FMM) will need to be filled out in place of a visa. This is a simple form: pick one up from the check-in counter at the airport and fill it out on the airplane before you land or you can acquire one at all land border crossings. If the airline you are traveling with does not have any forms at the check-in desk or on-board the plane, don't worry, you can get one when you land in Mexico and fill it out before you line up to have your documents checked and stamped by the officials at the airport.
Mexico charges a fee to all tourists and business visitors arriving in the country. The fee is approximately US$22, and the money collected is passed to the Tourist Ministry to promote Mexican tourism.
Airlines normally collect the permit fee on behalf of the Mexican government and include the cost within the total airfare (under 'taxes and surcharges'), so in the majority of cases, there will be no need for you to pay the fee separately.
YOU DO NEED TO APPLY FOR A VISA BEFORE TRAVELING TO MEXICO IF:
You don't hold a passport from one of the countries on the 'exempt' list, and you do not qualify under points 2, 3, and 4 above.
YOU WILL NEED A VISA if you are a citizen (and do not hold a Visa for the United States in your passport) of:
Afghanistan, Albania, Algiers, Angola, Antigua and Barbuda, Armenia, Azerbaijan, Bahrain, Bangladesh, Belarus, Benin, Bhutan Bolivia, Bosnia and Herzegovina, Botswana, Brazil, Brunei, Burkina Faso, Burundi, Cambodia, Cameroon, Cape Verde, Central African Republic, Chad, China, Colombia, Comoros, Congo, Congo, Rep. Dem (Zaire), Cote d'lvoire, Croatia, Cuba, Djibouti, Dominica, Dominican Republic, East Timor, Ecuador, Egypt, Eritrea, Ethiopia, Fiji, Gabon, Gambia, Georgia, Ghana, G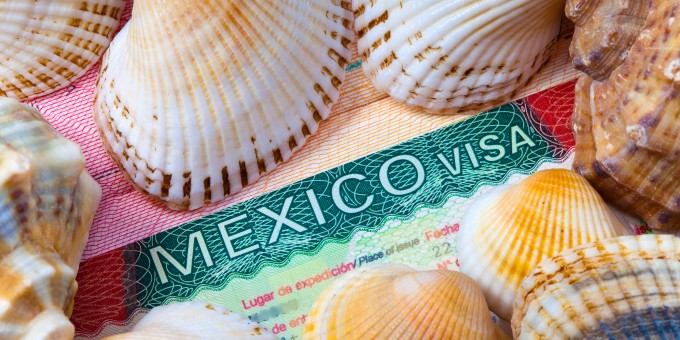 renada, Guatemala, Guinea, Guinea Bissau, Haiti, Honduras, India, Indonesia, Iran, Iraq, Jordan, Kazakhstan, Kenya, Kiribati, Korea, North, Kuwait, Kyrgyzstan, Laos, Lebanon, Lesotho, Liberia, Libya, Macedonia, Madagascar, Malawi, Maldives, Mali, Marshall Islands, Mauritania, Mauritius, Micronesia, Moldova, Mongolia, Morocco, Mozambique, Myanmar (Burma), Namibia, Nauru, Nepal, Nicaragua, Niger, Nigeria, Oman, Pakistan, Panama, Palestine, Papua New,Guinea, Paraguay, Peru, Philippines, Qatar, Russian Federation, Rwanda, Sahrawi Arab Dem. Rep., Saint Kitts and Nevis, Saint Vincent and the Grenadines, Salomon Islands, Sao Tome and Principe, Saudi Arabia, Senegal, Serbia and Montenegro, Seychelles Islands, Sierra Leone, Somalia, South Africa, Sri Lanka, Stateless Persons, Sudan, Surinam, Swaziland, Syria, Taiwan, Tajikistan, Tanzania, Thailand, The Bahamas, Timor-Leste, Togo, Tonga, Trinidad and Tobago, Tunisia, Turkey, Turkmenistan, Tuvalu, Uganda, Ukraine, United Arab Emirates, Uzbekistan, Vanuatu, Vietnam, Western Samoa, Yemen, Zaire, Zambia, Zimbabwe.
PLEASE PLAN WAY IN ADVANCE TO SECURE YOUR VISA.  ITS BEST TO CHECK WITH YOUR LOCAL MEXICAN EMBASSY OR CONSULATE AS SOON AS YOU CAN.
WE ARE HERE TO HELP AND SUPPORT YOU IN THIS PROCESS.   
WEATHER
The weather slowly begins to heat up even further in this part of Mexico during March, when the average temperature jumps to 25°C, accompanied by afternoon highs of up to 30°C and lows of 22°C. This means temperatures throughout the day will be very warm so ensure time is spent in the shade during the peak of the day.
With just 4 days of rainfall and only 40mm of rain experienced, this month is drier than February, representing a downward trend in rainfall which will continue for the next couple of months. This is therefore one of the most popular times to visit Cancun, before the rainy season and before the risk of Hurricanes increases during the summer months.
The popularity of this tropical resort during the spring, when other locations in Europe and elsewhere are still expecting cool temperatures is understandable when it is noted there are already 10 hours of sunshine per day here. Not to mention, an average sea temperature of 26°C creates ideal conditions for spending your day relaxing, swimming and seeing the local sights.
ELECTRICITY
The standard Cancun electricity supply is 110 volts. Hotels usually offer voltage converters for 220 volt devices. Many sockets do not accept polarized or three-prong plugs so it is recommended that you bring your own adapter but you can usually buy these in the hotel shop.
---
THE PESO
In Mexico, the national currency is the Mexican peso (MXN), so your first money matter is to get familiar with these colorful bills. The most common bills come in denominations of 20, 50, 100, 200 and 500. They come in a range of hues, including purple, blue and yellow. The smaller bills will often be made of plastic, so feel free to take them swimming with you. Coins come in values of 1, 2, 5 and 10 pesos. Cents, or "centavos," are worth very little. The same symbol ($) is used to designated prices, but this will always designate the price in pesos, never dollars, in Mexico.
 Know the Exchange Rate
Before you start spending, you need to know what everything is worth in real terms. To do this, you need to know the exchange rate to your own national currency. In 2010, on average, $1 USD was equal to 12 to 13 pesos. Exchange rates fluctuate, so be sure to check online before you exchange money. You can exchange your local currency into pesos at airports or money exchange locations, but you will either be charged a fee or will pay an unfavorable exchange rate. You can also withdraw cash from foreign bank accounts from ATMs in Mexico, but you will likely be charged ATM fees, international withdraw fees and currency exchange fees. The cheapest way to get foreign currency is to withdraw it from your local bank before you travel. Most banks will do this for free, if you ask a week in advance and withdraw at least a significant amount of money; check with your bank for its specific policies.
Change Matters
Change matters in Mexico. Outside of large tourist resorts, travelers to Mexico might be surprised to discover large bills of local currency are commonly not accepted; they're refused because vendors often do not have enough change. To buy a beer, catch a cab or walk away with local handicrafts, smaller is better when it comes to currency.
---
TRAVEL TO CANCUN
Cancún International Airport is located in Cancún, Quintana Roo, on the Caribbean coast of Mexico's Yucatán Peninsula. It is Mexico's second busiest airport, after Mexico City International Airport, but the biggest for international passengers. It has all the services you would expect from a major international airport: ATMs, money exchange, car-rental agencies. It's served by many direct international flights and by connecting flights from Mexico City. Low-cost Mexican carriers VivaAerobus, Interjet and Volaris have service from Mexico City.
A taxi ride from the airport to the IBEROSTAR should be less than $15 USD in a shared Van and $40USD by private taxi and should take about 15 minutes.
The hotel address is listed in several places on our site but here it is again:
THE IBEROSTAR CANCUN GOLF & SPA RESORT, Boulevard Kukulan, Km 17, Zona Hotelera, 7750 Cancun, Quintana Roo, Mexico
Phone:  52 98 81 8000   Fax: 52 98 881 8082, Contact  Fernando Esparza, cooreventos.cancun@iberostar.com.mx      www.Iberostar.com
---
THE IBEROSTAR CANCUN GOLF & RESORT
ITS IS VERY IMPORTANT TO NOTE THAT THERE ARE OTHER IBEROSTAR HOTEL'S IN THE NEARBY AREA.  BE SURE TO SPECIFY THAT YOU ARE GOING TO THE IBEROSTAR CANCUN IN THE ZONA HOTELERA IN CANCUN.
IBEROSTAR Cancún is a luxurious, 5-star All-Inclusive resort complex located on one of the finest beaches in Cancun, Mexico. Situated just 15 minutes from Cancún International Airport, this modern, family-friendly resort which includes a convention center with the capacity for all types of conferences, business groups and social events, completed its last renovation in December 2011. IBEROSTAR Cancún has been receiving accolades, including the prestigious AAA Four Diamond Award, for its quality and service.
Luxurious rooms. IBEROSTAR Cancún has a wide range of rooms: villas, deluxe rooms and suites of all kinds. All rooms are spacious, very comfortable and feature luxurious decor. Most of them enjoy beautiful views of the Caribbean.
Mexican and international delicacies. Lovers of great food will really enjoy the two hotel buffets and specialty restaurants offering different world cuisines, which quite naturally include Mexican. A good opportunity to experience new tastes and sensations.
The finest hotel convention center in Cancún. IBEROSTAR Cancún is the only resort in Cancún's hotel zone that offers a ocean front convention center on its premises with three spectacular interconnected and unobstructed conference rooms, two of which overlook the Caribbean, and large outdoor areas for groups, conferences, social events, fairs and expos.
A golfer's paradise. IBEROSTAR Cancún is the only resort in the area that has an onsite 18-hole championship golf course. A true delight for fans of this sport.
With six restaurants and four bars newly-renovated, the cuisine ranges from casual to gourmet, and atmospheres can vary from festive to romantic.  One buffet restaurant, one snack bar, four specialty restaurants, one modern sports bar one ice cream parlor and one cigar bar.  No other resort in Cancun can provide you with as wide a variety of entertainment:  an 18 hole golf course, a luxurious spa, a modern fitness center, a spectacular ocean front convention center, amazing outdoor areas for events and social activities, seven magnificent infinity pools, one soccer filed and two tennis courts.
The ALL INCLUSIVE PACKAGE INCLUDES an Ocean View Room, Taxes and service charges, in room stocked mini-bar, snacks, 24 hour room service, Buffet Restaurant offering breakfast, lunch and dinner, four specialty restaurants for dinner, reservations required, unlimited premium and domestic alcoholic beverages and bars during normal business hours, pool and beach waiter service during normal operating hours, fitness center with classes, pool activities during normal business hours, live nightly musical entertainment during normal operating hours
Our group rate is good three days prior to the meeting and three days post meeting.  Please check the above tab called FEES AND DETAILS, for pricing.
MEETING DRESS CODE
It will be warm in Cancun.  Our dress code this year will be casual, no need for sports coats, suits or ties.   We are on the ocean, and dress should be light and comfortable for all events.  We simply ask that men wear a collared shirt and no T Shirts in the Meeting sessions for men and business casual for women.   Please be comfortable and respectful of your fellow members as well.
---
THE GALA DINNER
The GALA DINNER will also be a very informal event and will be loads of fun.  It includes a pre-dinner cocktail period, followed by a dinner and professional entertainment.  It's another great chance to get to know your fellow members, their guests and partners.
---
NEW MEMBERS ORIENTATION
This is for new members only.   If you have never been to a Globalink Worldwide Meeting, or if you are a new member, having joined our group since the last meeting, we highly encourage you to attend our NEW MEMBER ORIENTATION.  These are well attended.   In the orientation we get a chance to meet each other, and get to know one another before the opening cocktail party.  We also go over a few of the basics as to how Globalink works and how to maximize the return on your Globalink investment.
The NEW MEMBER ORIENTATION will take place our first day before our opening cocktail party.  Please check THE AGENDA for times and location.
---
MEETING FORMAT
Our meeting officially starts off with our welcome cocktail reception, on Tuesday, March 21 at 7pm.   Sponsored by ATOLL LOGISTICS, this cocktail reception is for members, their guests and spouses.   It will feature light snacks, beer and wine, soft drinks and water.  There will be some welcoming remarks along with a possible surprise visitor (a growing Globalink tradition).
Our formal meetings begin at 9am for the next three days, with presentations and a coffee break around 10:15am.  On our first day we will be making another contribution to a local charity on behalf of the entire group.
ONE on ONE sessions will start at 10:30, and will continue until 12:00 at which time we will break for lunch.  One on One sessions will resume at 1pm and continue until 5pm each day.
Lunch is included each day as part of your meeting package.
As with last year, we will continue our policy of members issuing Penalty Cards for members who do not attend their scheduled ONE on ONE meetings.  We will share these names with the entire group.
Our Gala dinner, sponsored by ATOLL LOGISTICS of the Maldives, is scheduled to open with a cocktail party at 7pm, scheduled for Thursday, March 23.
One on One meetings will be scheduled using our in house scheduling software.  In scheduling ONE on ONE meetings, keep in mind the sooner you register for the meeting, the more options you will have to schedule meetings and for others to schedule with you.
One on One meetings are scheduled on a first come, first serve basis.  Once again, and we hear this every year, for those who wait to the last minute to register, the One on One Meeting slots of those you might want to meet with can be filled up, with no openings.  Register for the meeting as soon and as early as possible.
I highly recommend you consider bringing at least two representatives from your company to cover that many more ONE on ONE meetings.  We offer a discounted registration rate for additional company members to attend.
---
MEETING PRICING
The pricing for this meeting is the lowest in the last four years, both for the meeting and the Gala Dinner.
I recommend you take advantage of these low rates and bring one additional person than usual from your company to the meeting.  We are proud to offer these lower costs to you.  I can also assure you that it's always been part of our approach to use the group's buying power to get the lowest rates possible so that we might enjoy great hotels and facilities at prices that are far lower than if we booked on our own.  We do not markup up room rates and pass these on at cost to deliver this experience.
As in the past we offer a special rate for guests and spouses who want to join us for our social events.  This pricing included attendance at the Gala Dinner and the opening Cocktail Party.   It does not include lunches or attendance in our General Sessions, the coffee breaks or the One on One Sessions.  Since we are charged on a per head basis for these by the hotel, we will have to pass this charge on to any spouses that join the group for lunch or are in the Meeting rooms.  If you want to join us for lunch, let us know and we will alert the hotel to prepare a separate bill for you.
It is certainly an investment to attend these meetrings so make the most of them.  The cost of attending a Globalink Meeting is a fraction, less than 10% of what it would cost you in time and money to visit with this many other partners from all over the world.  So, when you compare the two approaches, this is one of the best value for money benefits we offer.  Make the most of it.  Reach out, meet people, spend time getting to know one another..
Finally, the objective here comes directly from our philosophy.  GOOD RELATIONSHIPS build GOOD BUSINESS.  This is about making friends.  It's about meeting and discussing business and getting to know each other's companies.  It's equally important that we get to know one another, as matching values and personalities is a big part of building business.  So, we schedule time for both, and we invite you to make the most of both.
I am excited about seeing you in Cancun, Mexico, and spending another week or so with our Globalink family.
Beinvenidos